Asylum and Refugee Status
If you fear to return to your country, you may be eligible for asylum in the United States. Immigration attorney Aziz Dzhuraev can help you to find political asylum and apply for refugee status. Before applying for Asylum in the USA, please, read this article.
Asylum is the legal protection afforded by the United States government to a person, who is already in the United States, and afraid to return to his or her home country because of a well-founded fear of persecution based on:
Race

Religion

Nationality

Political opinion

Membership in a particular social group
Anyone who has been in the United States for not more than one year can apply for asylum if she or he qualifies for asylum. If you are applying for Asylum after being in the US for over a year, you will have to justify why you did not file a petition earlier. While applying for political asylum, your current status is not important; even being in an illegal status you are still able to apply. 
     It is very important that an asylum applicant fits into one of the categories mentioned above. The five grounds for Asylum are:  
You may, for example, qualify for asylum as a representative of a certain track if you live in a country where people are very intolerant to members of your race. Fights, conflicts, mass beatings, and destruction of property or other harm caused to members of your race is considered an act of persecution under US asylum law. If you have been attacked by radical groups or individuals and you are afraid for your life, you should consider applying for asylum.  
In order to qualify for asylum under this category, you must prove that you belong to a particular religion, whose representatives regularly face threats to their life and health from the members of the government or private citizens because of religious affiliation. That also can be the basis for asylum in the United States.
If you are of a certain nationality, and because of it, you faced humiliation, insults, threats from the government, the police, factions, or individuals in your country, you may qualify for Asylum.
If you have been threatened and physically abused because of your belonging to a political party, a group, a movement, or for your actions, thoughts, and statements that are political nature you may qualify Asylum.
         Membership in a particular social group
This category is wide and includes numerous types of groups of people. Journalists, lawyers, members of LGBT community, ethnic minorities and as well as others may qualify for asylum under this category if they were or will be persecuted because of such trait.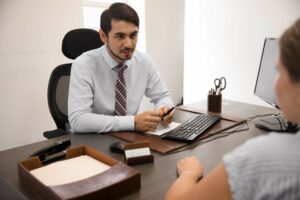 What is the asylum application process?
Here are the steps you will have to take on your journey to becoming an asylum in the United States.
Prepare and file an application for asylum, form I-589, and collect all the necessary documents to support your claim. Along with the application, it is always a good idea to submit a personal statement in which you describe details of your claim.

After your application is fully prepared you need to submit it with the U.S. Citizenship and Immigration Services.

Once USCIS receives your application, it will send you a notification receipt and invitation to undergo a biometrics appointment (typically within 10 days after USCIS receives your case)

Nowadays, USCIS will typically schedule you for an interview within 45 from the time it received your application.

You must then appear before USCIS office, describe your story in detail and convince the officer that you are eligible for asylum.

After the interview is over, you will receive your decision within 14 days. In some circumstances, you may have to wait a little longer and even up to one or two years.
Please note that once you apply for asylum and no final decision has been reached in your case within 150 days, you qualify for an authorization to work in the United States!
 Our New York Asylum Attorney, Russian Speaking, will help you to determine your eligibility for asylum. First of all, we will help you prepare your asylum application and personal. We will also prepare your complete asylum package. You need the New York Asylum lawyer, to help you prepare you for your asylum interview. Alternatively, we will prepare you for your court hearing and represent you in your proceedings.
Please do not hesitate at all to contact your future Russian/Tajik Speaking Immigration Attorney if you did not find answers to your questions. Our clients can call, email or text us or reach us on our social media pages including Facebook and Instagram. Most importantly, we are here for protecting your immigration rights. 
Also you can read the interesting information about Asylum: